Apple Green kandy Pearl and Silver Crystal Model Car
Hello Matt, I just thought that you would like to see how well your product came out on my model build. Thanks again for such a wondeful product.  I will be buying from you soon.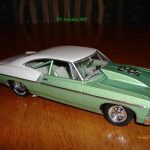 All testimonials are the opinions of our kustomers, and are not to be perceived in any other way.
About Author