Gold and White Ghost Pearl Paint on Chrysler 300c
This car has won many car shows, and was even featured in a rap video, no doubt with the help of your products. my painter was extremely pleased with working with your products, saying it was the easiest pearl he has ever worked with as well as was most consistent lay down. your products are very highly recommended by me.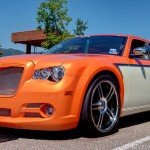 All testimonials are the opinions of our kustomers, and are not to be perceived in any other way.
About Author