Silver Holographic Motorcycle GSXR
We were thrilled by how easy this flake was to use. It mixed well with DuPont ChromaClear, knocked down well after wet sanding and covered perfectly with the final coats of plain clear.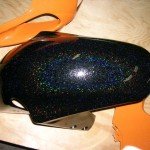 All testimonials are the opinions of our kustomers, and are not to be perceived in any other way.
About Author