Chameleon Charger with Red Green Blue Chameleon
Roman Cooremans' chameleon charger painted with our 4739RG Kolorshift Pearls ®. This chameleon Charger has a Red Green Blue Color-shift Kolorshift Pearls.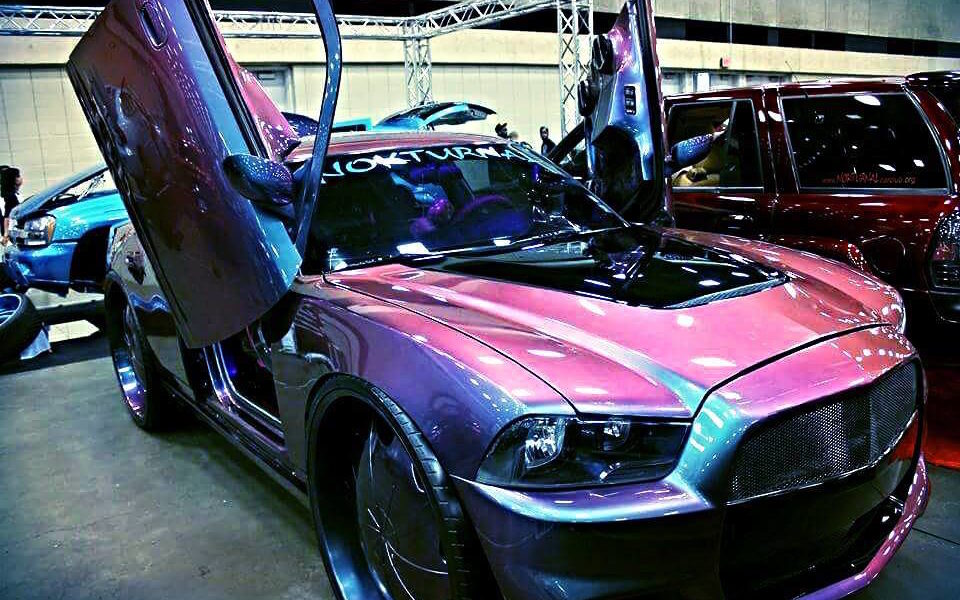 Chameleon Charger by Roman Cooremans
This chameleon charger (Dodge) used to be pink and black got into an accident and sprayed it with Kolorshift Pearls s mixed with PPG dbc500 binder over a black base. My painter used 400 grams of the red green blue Kolorshift Pearls . For my outside, jambs and all my fiberglass interior and add-ons. It took a lot of paint for my car. The entire inside of my car is fiberglassed and painted. Door panels, headliner, dashboard, kick panels, deck lid, trunk lid, steering wheel, center console. Everything. So it took a lot of paint
We at Paint With Pearl appreciate all of our kustomers who take the time to send us pictures and feedback on all of our products. Our Kolor Pearls, Metal Flakes, True Chameleon pigments, Thermochromics, Glow In The Darks and all other paint pigments are truly kustom paints and can be used in almost any application. There are so many options with our products! Photos, Videos and testimonials are a great way to show off the capabilities of our additives. If you find the opportunity, send us some great pics and a small testimonial about what you did with our products and we will send you a gift card for the website. We love to show off the work that our wonderful kustomers are doing. Contact us and send us your work!
All of our products can be used in vehicle dip, we were the first company to supply the dip community with pigments.  If you have any reservations about whether our products work in vehicle dip, you should know that we were the pioneers who introduced Plasti Dip Pearls to the world.
Shop with us…the leader in paint and Pearl Pigments Since 2005.  Thank you for shopping with us!