kustom Nail Polish Color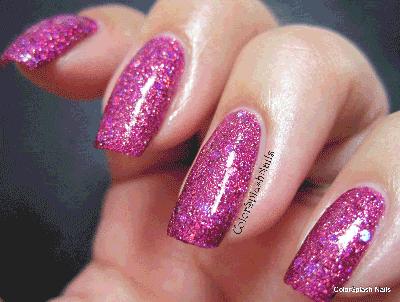 kustom Nail Polish Color:  The recipes are secret, but we know that our Pearls and Flakes are in there!
Batch 3: Sun Kissed in San Tropez, Kiss Me I'm Irish and Rebel Alliance

Anyway, I have many more and use the .004

silver holographic

in tons of polishes.  I have other chameleons, but would need to stop and think about which came from what company.  As with most things, the flake is blended with other glitters and the the chameleons are blended with spectraflair.

Oh wait! forgot I used the

Neon Glow purple

in (Part of my Summer Beach Party Collection).

That does it for now.  Let me know if you need others.  Just embarking on some experimentation of the silver holographic .004 with some multi chromatic flakes

Batch 2 Glass Slippers, Look to the Rainbow, Pinch Proof, Violet Explosion, Fall In New England, New Beginnings.  I use many of the PWP products, the

flakes

,

chameleons

, and the

thermals

.  I mix them with lacquer base for

nail

polish and have generated polishes that have sold world wide.  My first use was of the metallic flake, which, in this size of glitter at the time, was difficult to come by in this tiny size (.004).  I created the Hot Rod Collection of Hot Rod Red, Starfire, Gremlin, Barracuda, and Blue Lightning. (others came along later: Glass Slippers, Look To The Rainbow, Pinch Proof, Violet Explosion, Fall in New England and New Beginnings to name a few)  I've also used the Chameleon pigments is polishes such as Sun Kissed in San Tropez  And the

thermals

for example Kiss Me I'm Irish and Rebel Alliance
We at
Paint With Pearl
appreciate all of our kustomers who take the time to send us pictures and feedback on all of our products. Our
Kolor Pearls
,
Metal Flakes
,
True Chameleon
pigments,
Thermochromics
,
Glow In The Darks
and all other
paint pigments
are truly
kustom paints
and can be used in almost any application. There are so many options with our
products
! Photos, Videos and
testimonials
are a great way to show off the capabilities of our additives. If you find the opportunity, send us some great pics and a small testimonial about what you did with our products and we will send you a gift card for the website. We love to show off the work that our wonderful kustomers are doing.
Contact us
and send us your work!
All of our products can be used in vehicle dip, we were the first company to supply the dip community with pigments.  If you have any reservations about whether our products work in vehicle dip, you should know that we were the pioneers who introduced Plasti Dip Pearls to the world.
Shop with us…the leader in paint and Pearl Pigments Since 2005